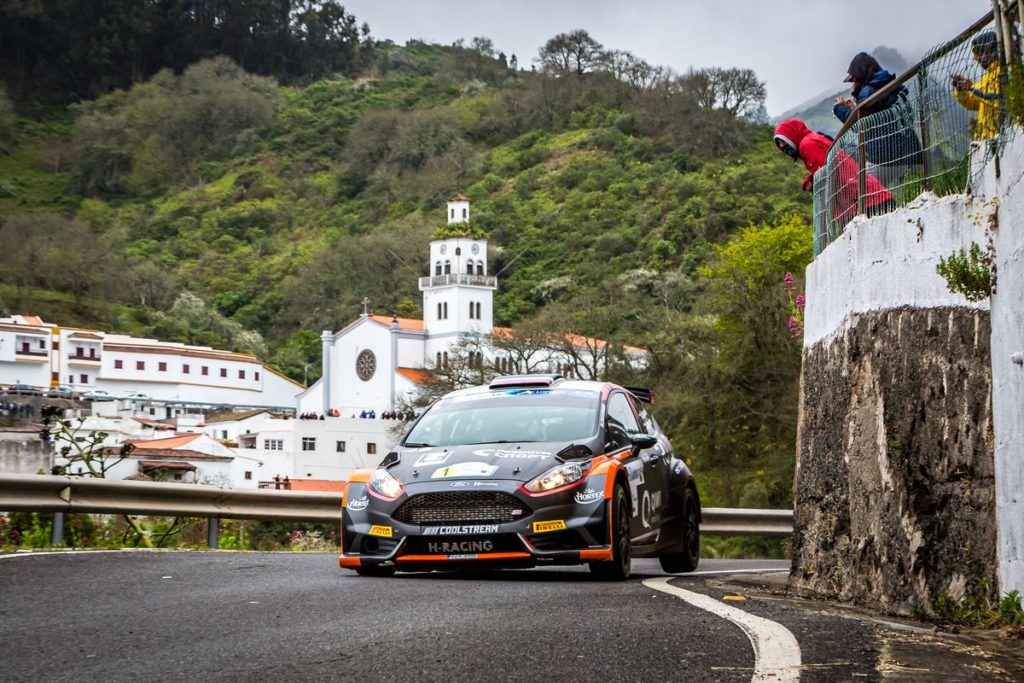 Alexey Lukyanuk held off the threat from the leading FIA ERC Junior Under 28 Championship drivers to make it three Rally Islas Canarias wins in succession following a sublime performance alongside co-driver Alexey Arnautov on Gran Canaria's demanding all-asphalt stages.
In doing so they have become the first crew since Luca Rossetti and Matteo Chiarcossi in 2011 to win the first two events of an ERC season, a result that enables them to extend their title advantage in their Pirelli-equipped Russian Performance Motorsport Ford Fiesta R5 on the back of 10 stage wins from 14.
"I am very very happy," said Lukyanuk. "We were winning a lot of stages and showing good confidence. We had some worries that the young drivers here would push really hard but we managed to do a good job, the weather was okay for us, the starting position was very clever and helped us to maintain a good speed. Thanks to Pirelli for tyres, everything worked well with no big problems so quite good for us."
Nikolay Gryazin and Yaroslav Fedorov landed the ERC Junior Under 28 spoils in style in second overall with a deliberately "calm" approach. After winning the Qualifying Stage on Thursday, they claimed two more stage bests in their Sports Racing Technologies ŠKODA Fabia R5, which ran on Michelin tyres.
Behind Gryazin, a late turn of speed decided an epic battle for the final podium position between ERC Junior U28 drivers Fabian Kreim and José Suárez. Kreim had edged ahead early on today after taking third place on Friday night, and though Suárez, in a Hyundai Motor España i20 R5, retaliated just before midday service, ŠKODA AUTO Deutschland-backed Kreim confirmed his first ever ERC podium finish with a storming drive through the rally's final stage.
ERC Junior Experience graduate Laurent Pellier capped a fantastic second ERC appearance with a top five overall finish, following on from his first ever stage win in Friday morning's second test. PEUGEOT Rally Academy's young star also recorded his first top five in ERC Junior U28, coming fourth and only 1.5s behind third placed Suárez.
Diogo Gago made it two ERC Junior Under 27 wins from two starts following a thrilling battle with Mārtiņš Sesks, which had been a three-way scrap in the Pirelli-supported category until Efrén Llarena crashed heavily in his Rally Team Spain entry this morning, fortunately without injury to neither he nor co-driver Sara Fernández.
Tibor Érdi Jr recovered from his Azores Airlines Rallye exit to dominate ERC2 by going fastest on all but one stage. And with round one winner Juan Carlos Alonso failing to finish due to a technical issue, Érdi Jr's title defence is back on track, despite a throttle fault causing him to stop three times on the last run to make emergency repairs.
Championship newcomer Florian Bernardi claimed the ERC3 victory in his Renault Clio, while Canary Islander Emma Falcón took the ERC Ladies' Trophy spoils ahead of Catie Munnings, who overcame a late scare when a sensor issue struck nearing the finish of the final stage.
Leg two recap: Safety-first approach from Gryazin gives Lukyanuk comfortable win
Alexey Lukyanuk's position at the head of the ERC field was aided by a safety-first approach from nearest rival Nikolay Gryazin, the ŠKODA Fabia R5 driver determined to preserve his ERC Junior U28 lead at all costs from a trio of rivals close behind.
Fabian Kreim and José Suárez, in third and fourth respectively, were engaged in a tight scrap throughout Saturday morning, Kreim initially pulling out 1.6s across SS9 and SS10 before Suárez claimed 1.0s back on the morning's final stage. A 3.5s gap after midday service turned into a 9.8s advantage two stages later for Kreim, but one last twist was to come. Kreim checked in late for the start of the final stage after being held by a police officer on a road section while routine checks were carried out.
Starting out of position and afraid his podium was about to be lost, he turned up the wick and put in a blinding final stage time, increasing his gap by 9.2s over Suárez in fourth overall. That second-fastest stage time – unsurprisingly behind rally winner Lukyanuk – was equalled by fifth placed finisher Laurent Pellier, who had started his day down in sixth place but came only 1.5s from usurping Suárez.
Pellier capitalised on a difficult event for last year's ERC runner-up Bruno Magalhães, leapfrogging him into sixth place in Saturday's opening test as Magalhães struggled with a pop-off valve issue. Pellier then inherited fifth from compatriot Pierre-Louis Loubet, as the Team-OSCARO backed driver's car ground to a halt on the liaison section between stages 10 and 11.
Loubet had been pushing hard all weekend, keen to turn his promising pace from Azores into a concrete result in Gran Canaria. Though a car issue meant he left Rally Islas Canarias with only leg points from Friday, he left his mark – literally – not realising he had crossed the finish line at the end of SS9 and going flat out until almost reaching time control.
Grzegorz Grzyb was another to benefit from Magalhães' morning troubles, Rufa Sport's main man moving past Magalhães one stage after Pellier and inheriting sixth following Loubet's retirement.
Magalhães fixed both his pop-off valve problem and his car's set-up at midday service, climbing back to seventh overall in the afternoon after initially dropping behind Norbert Herczig and Iván Ares. Hyundai Motor España's Spanish champion Ares would finish only 2.0s shy of Magalhães, having lost 2.7s to the Portuguese driver in the rally's final stage.
Herczig would not be able to hold on to his top ten finish. The Mol Racing Team ŠKODA Fabia R5 driver picked up a puncture in the rally's penultimate stage, costing him 1m23.3s to Magalhães and down to P12. Thanks to a quick time in the rally-ending SS14, he pipped Spaniard Surhayen Pernía to P11.
Between Ares and Herczig in ninth and P10 were Eyvind Brynildsen and Łukasz Habaj. Brynildsen's first tarmac rally in an R5-specification car in five years had not gone exactly to plan, a suspected differential issue making his car difficult to drive while on the throttle, but a top ten finish was welcomed nonetheless.
ERC Junior U28: Gryazin wraps up win
Nikolay Gryazin wrapped up a faultless FIA ERC Junior Under 28 Championship victory on Rally Islas Canarias, winning four stages in category on Saturday despite his "cautious" approach. Sports Racing Technologies-run Gryazin went fastest in all three of Saturday morning's stages, but took a back-seat in the afternoon to a close battle for second place between Fabian Kreim and José Suárez.
Kreim was pushing for his first ever ERC podium finish – both overall and in ERC Junior U28 – and went fastest in category during both SS12 and SS14 on his way to second place.
Ringing the neck of his ŠKODA AUTO Deutschland Fabia R5, Kreim pushed his advantage over Suárez from 2.9s to 9.8s during Saturday's first five stages, thought he had lost it all when checking into time control at SS14 time control late.
Expecting to be penalised, Kreim pushed the limits of both his car and himself, almost doubling his lead in one stage alone to finish 18.9s ahead of Suárez in third.
With Suárez having one eye firmly fixed on wrapping up Spanish national championship victory, PEUGEOT Rally Academy's Laurent Pellier began closing in during leg two, having originally been ahead of Suárez on Friday morning before falling back. Though Pellier gouged 14.9s out of Suárez's advantage, he fell just 1.5s shy by the end of SS14, settling for fourth in class but with an overall stage win on Friday morning to celebrate in lieu of a narrowly missed podium finish.
Pierre-Louis Loubet was also set to challenge for an ERC Junior U28 podium finish aboard his Team OSCARO-backed, BRC Racing Team-prepared Hyundai i20 R5, but an electrical failure in the road section between SS10 and SS11 ended his rally short. That retirement handed Hubert Ptasezk fifth place, who compared his repaired TRT Krezus Rally Team Fabia to a "Mercedes S-Class" on Saturday morning. His Friday afternoon had been a noisy one, his left-rear wheel bearing causing loud vibrations in the cockpit and giving Ptasezk a headache.
Aleks Zawada capped his ERC Junior U28 debut with sixth place, thanks to some hard graft from his mechanics on Saturday morning. Having clipped a kerb in SS5 yesterday and damaging his right-rear wheel, his MSZ Racing family outfit did not have the required spare part to manage a quick fix, but extra time spent working on his car before heading out to Saturday's stages allowed him to finish the rally.
ERC Junior U27: Gago edges Sesks in three-way thriller
Diogo Gago scored his second consecutive FIA ERC Junior Under 27 Championship victory, but was made to work extremely hard for first place by ADAC Opel Rallye Junior Team starlet Mārtiņš Sesks and Spanish youngster Efrén Llarena in the Pirelli-supported category.
Sesks had stunned onlookers by leading ERC Junior U27 after Leg One on his tarmac debut. It didn't last long however as Gago immediately moved into the lead on Saturday's opening stage, Sesks momentarily lost track of his pace-notes and dropping to third place.
A rapidly recovering Llarena moved into second between Gago and Sesks on SS9, having briefly led on Friday morning himself before his tyres went off dramatically and dropped him to fifth. Only 1.1s separated the top three after Saturday's opener, but an enthralling three-way tussle was thinned to only two protagonists on the next stage.
Now only 0.9s behind leader Gago, Llarena sensed an opportunity, and made his move for first place in Moya's first pass. Eager to shave every millisecond off his stage time possible, Llarena took too deep a cut on a right-hand corner with a tree inside, ripping a front-right wheel from his Rally Team Spain PEUGEOT 208 R2 and pitching him into a rockface. Though Llarena and co-driver Sara Fernandez were unhurt, their rally was over. With Llarena out of the equation, Gago pushed on and edged further ahead of Sesks, building an 11.0s advantage before the final stage and securing victory by 8.9s.
Simon Wagner inherited third position from Llarena's retirement, 26.0s behind Sesks aboard his Saintéloc Junior Team-prepared 208. Tom Kristensson recorded his first ERC Junior U27 finish of 2018 with fourth place, 56.4s behind Gago and satisfied that he had made no mistakes during the event.
Escuderia La Coruña's Roberto Blach finished fifth, putting in a good turn of pace to almost triple his time advantage over Miika Hokkanen from 16.6s at the end of Leg One to 47.3s by the rally's conclusion.
ERC Under 27 debutant Roland Stengg enjoyed his run to seventh place, well clear of Dominik Brož. ACCR Czech Team's national prodigy suffered a dramatic end to his rally, going off two corners from the finish line of SS14 before finishing eighth.
Brož had perhaps given his good luck charm to Catie Munnings, adding a daisy to her Peugeot 208's door. As the day wore on said daisy began to wilt, and at the end of SS14 a faulty sensor suggested her engine was also wilting with high water temperature. A friendly push up the hill from ERC2 competitor Sergei Remennik and a power cycle later, she trundled back to service to secure ninth.
ERC2: Tibor Érdi Jr. makes title ambitions clear with dominant win
Tibor Érdi Jr put a disappointing early retirement on the Azores Airlines Rallye by scoring a dominant ERC2 victory, setting the fastest production category stage time in all but one test across both days. Starting day two with a 31.8s lead over Azores ERC2 winner Juan Carlos Alonso, Érdi had almost doubled his advantage over Alonso by the morning loop's end, holding a 51.9s lead at midday service. His task of scoring maximum points was made much easier when Alonso was unable to contest the second leg and retired, shuffling Zelindo Melegari up to second place. Sadly, Melegari would not finish either, retiring in the penultimate stage due to an engine problem. Érdi had set fastest times in all 13 preceding stages heading into the rally-closing Galdar rerun, but hopes of a completely perfect rally were dashed by a throttle issue, allowing Sergei Remennik a token fastest stage time. Remennik was left to take up second place after Melegari's retirement, a just reward for working so hard on Friday by driving with no power steering for most of Leg One's afternoon loop. Gilbert Bannout's rally had a happy ending after an early retirement on Friday. He repeated his ERC2 podium finish from last year's Rally Islas Canarias, this time at the wheel of a Toksport WRT-prepared Subaru Impreza STI.
ERC Ladies' Trophy: Falcón scores hard-earned home victory
Canary Islands native Emma Falcón scored a popular home win in the ERC Ladies' Trophy, beating Catie Munnings to victory by 42.5s despite gearbox troubles throughout both days. Signs that Falcón's quest for victory would not be a straightforward one emerged back on Friday morning when she stopped to check what she thought was a puncture in SS3, dropping 30s. Gear selection issues then set the Fuerteventura-based driver back further on Friday evening, an issue which persisted throughout Saturday. Sunday's fastest times were split evenly between the pair, as Falcón struggled especially through Moya's two passes. Though Munnings had cut her gap to Falcón ahead down to only 24.3s after SS10, by rally's end the gap had crept back up to 42.5s.
PROVISIONAL TOP 10 POSITIONS (after 14 stages, 202.72 kilometres)
1 Alexey Lukyanuk (RUS)/Alexey Arnautov (RUS) Ford Fiesta R5 2h06m23.6s
2 Nikolay Gryazin (RUS)/Yaroslav Fedorov (RUS) ŠKODA Fabia R5 +51.4s
3 Fabian Kreim (DEU)/Frank Christian (DEU) ŠKODA Fabia R5 +1m29.5s
4 José Suárez (ESP)/Cándido Carrera (ESP) Hyundai i20 R5 +1m48.4s
5 Laurent Pellier (FRA)/Geoffrey Combe (FRA) PEUGEOT 208 T16 1m49.9s
6 Grzegorz Grzyb (POL)/Jakub Wróbel (POL) ŠKODA Fabia R5 +2m04.5s
7 Bruno Magalhães (PRT)/Hugo Magalhães (PRT) ŠKODA Fabia R5 +2m21.1s
8 Iván Ares (ESP)/José Pintor (ESP) Hyundai i20 R5 +2m23.1s
9 Eyvind Brynildsen (NOR)/Torstein Eriksen (NOR) Ford Fiesta R5 +2m25.9s
10 Łukasz Habaj (POL)/Daniel Dymurski (POL) Ford Fiesta R5 +3m07.4s
FIA ERC2: Tibor Érdi Jr (HUN)/György Papp (HUN) Mitsubishi Lancer Evolution X
FIA ERC3: Diogo Gago (PRT)/Miguel Ramalho (PRT) PEUGEOT 208 R2
FIA ERC Junior Under 28: Nikolay Gryazin (RUS)/Yaroslav Fedorov (RUS) ŠKODA Fabia R5
FIA ERC Junior Under 27: Diogo Gago (PRT)/Miguel Ramalho (PRT) PEUGEOT 208 R2
ERC Ladies' Trophy: Emma Falcón (ESP) Citroën DS3 R3T
RALLY LEADERS
SS1-SS14: Alexey Lukyanuk/Alexey Arnautov
STAGE WINNERS
Leg one (Friday 4 May, 100.98 kilometres):
SS1: Valsequillo 1 (10.96kms):
| | | | | |
| --- | --- | --- | --- | --- |
| ERC1 | ERC2 | ERC3 | ERC Junior U28 | ERC Junior U27 |
| Lukyanuk | Érdi Jr | Llarena | Suárez | Llarena |
SS2: San Mateo 1 (15.04kms):
| | | | | |
| --- | --- | --- | --- | --- |
| Pellier | Érdi Jr | Bernardi | Pellier | Sesks |
SS3: Artenara 1 (23.05kms):
| | | | | |
| --- | --- | --- | --- | --- |
| Lukyanuk | Érdi Jr | Bernardi | Gryazin | Gago |
SS4: Valsequillo 2 (10.96kms):
| | | | | |
| --- | --- | --- | --- | --- |
| Lukyanuk | Érdi Jr | Bernardi | Gryazin | Llarena |
SS5: San Mateo 2 (15.04kms):
| | | | | |
| --- | --- | --- | --- | --- |
| Lukyanuk | Érdi Jr | Bernardi | Gryazin | Llarena |
SS6: Artenara 2 (23.05kms):
| | | | | |
| --- | --- | --- | --- | --- |
| Lukyanuk | Érdi Jr | Bernardi | Gryazin | Llarena |
SS7: Las Palmas de Gran Canaria 1 (7.02kms):
| | | | | |
| --- | --- | --- | --- | --- |
| Gryazin | Érdi Jr | Gago | Gryazin | Gago |
SS8: Las Palmas de Gran Canaria 2 (7.02kms):
| | | | | |
| --- | --- | --- | --- | --- |
| Avcioǧlu | Érdi Jr | Gago | Kreim | Gago |
Leg two (Saturday 5 May, 101.74 kilometres):
SS9: Arucas 1 (11.58kms):
| | | | | |
| --- | --- | --- | --- | --- |
| Lukyanuk | Érdi Jr | Llarena | Gryazin | Llarena |
SS10: Moya 1 (15.08kms):
| | | | | |
| --- | --- | --- | --- | --- |
| Gryazin | Érdi Jr | Gago | Gryazin | Kristensson |
SS11: Galdar 1 (24.21kms):
| | | | | |
| --- | --- | --- | --- | --- |
| Lukyanuk | Érdi Jr | Bernardi | Gryazin | Gago |
SS12: Arucas 2 (11.58kms):
| | | | | |
| --- | --- | --- | --- | --- |
| Lukyanuk | Érdi Jr | Bernardi | Kreim | Gago |
SS13: Moya 2 (15.08kms):
| | | | | |
| --- | --- | --- | --- | --- |
| Lukyanuk | Érdi Jr | Gago | Gryazin | Gago |
SS14: Galdar 2 (24.21kms):
| | | | | |
| --- | --- | --- | --- | --- |
| Lukyanuk | Remennik | Bernardi | Kreim | Sesks |
KEY STATISTICS
ERC rally wins in 2018: Lukyanuk 2
ERC stage wins in 2018: Lukyanuk 16; Magalhães 4; Gryazin 2; Åhlin, Avcioǧlu, Botka, Kreim, Moura, Pellier 1, Ptaszek 1
CHAMPIONSHIP POSITIONS
Go to FIAERC.com for the provisional championship positions following round two of eight.
WHAT'S NEXT?
EKO Acropolis Rally, 1-3 June: For more than 60 years, the Acropolis Rally has made heroes and broken hearts. Throughout that time, its legendary status has remained undiminished with the 2017 edition offering the usual mix of triumph (for Kajetan Kajetanowicz) and despair (for Nikolay Gryazin, who was leading when his car was gutted by fire). An ERC regular until 1968, the event returned to the European roster in 2014 as a mixed-surface affair. Now run in partnership with the OMAE Greek federation on gravel only, Lamia has been home since 2016, while this year's event will stat at the ancient Acropolis of Athens citadel.
Press release FIA ERC