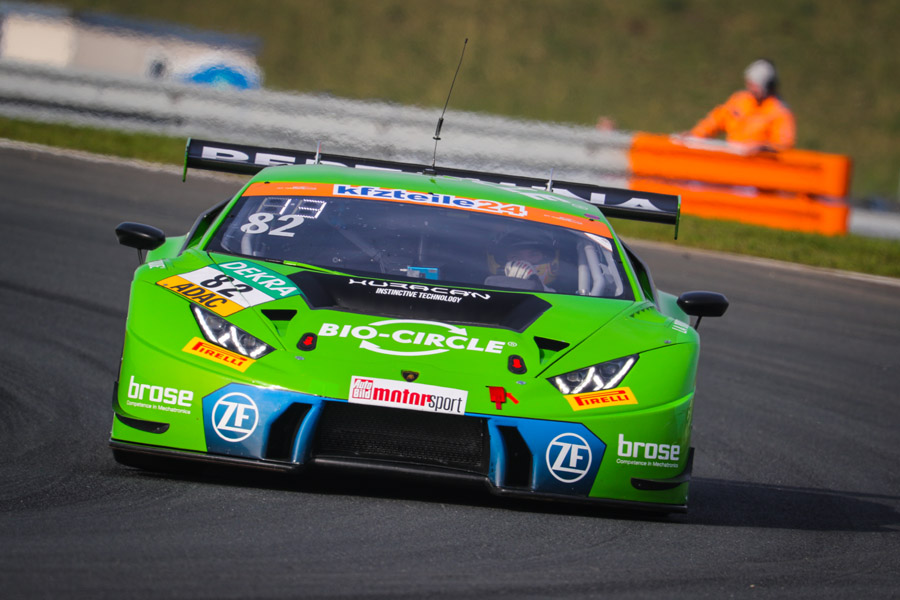 GRT Grasser Racing is scoring one victory after another. Following its win in last week's first Blancpain Sprint Series race of the season at Zolder in Belgium, the team travelled to Oschersleben full of confidence to take on the opening round of the 2018 ADAC GT MASTERS season. Here, the team was rewarded as well and even scored a 1-2.
First place went to the #63 GRT duo of Mirko Bortolotti (28/I) and Andrea Caldarelli (28/I), followed by #82 Christian Engelhart (31/Wolnzach) and Rolf Ineichen (39/CH), only 1.8 seconds down in second place. The third GRT driver pairing, #19 Ezequiel Perez Companc (23/RA) and Franck Perera (34/F), was still classified 19th following a drive through penalty.
It could have become the best weekend of the 2018 season for the GRT Grasser Racing Team to date, because #63 Mirko Bortolotti and Andrea Caldarelli were already on the podium after finishing second in the race on Saturday. However, joy about the success and the podium result didn't last long. Following post-race scrutineering, all three GRT Grasser Lamborghins with #63 Mirko Bortolotti und Andrea Caldarelli, plus the two ORANGE1 by GRT Grasser entries #82 Christian Engelhart and Rolf Ineichen, as well as #19 Ezequiel Perez Companc and Franck Perera were excluded due to telemetry data transmission functions having been built into the GRT Lamborghinis that aren't in accordance with the sporting regulations of the ADAC GT MASTERS (article 27.3).
Team owner Gottfried Grasser: "In the Blancpain GT Series, transmission of telemetry data is allowed, but it doesn't bring any advantages, it just serves to monitor the technology. The data are only information transmitted to the pits for control. We came directly from Zolder (Blancpain Sprint Series season opener the previous week), where transmission of telemetry data is allowed. The rules are the rules, there is no excuse, it was our mistake. On Sunday, we were still rewarded – without transmission of the telemetry data. I am very happy about that."
Good and bad luck were not far away from each other for GRT Grasser this weekend. There was bad luck for #82 Rolf Ineichen after a heavy impact on Friday: "I probably hit the kerb in such a bad way that I was only a passenger in my GRT Grasser Lamborghini. A very heavy impact into the Armco barriers followed. My neck is still a bit sore, but it is okay," the Swiss said. The Grasser team repaired the heavily damaged GRT Lamborghini overnight and Christian Engelhart sensationally claimed pole position with it in qualifying for the second race early Sunday morning.
Mirko Bortolotti (ORANGE1 by GRT Grasser, Lamborghini Hurácan GT3): "Thanks to the team and to Lamborghini. Today, we made the most of it. From first practice onwards, we have been working into the right direction with the car and we have made the right decisions related to the set-up. Of course, that helped us. The team did a great job in giving us such a car."
Andrea Caldarelli (ORANGE1 by GRT Grasser, Lamborghini Hurácan GT3): "Concluding the weekend with a victory is fantastic. Christian Engelhart and I refrained from attacking each other to ensure that we could pull clear from the rest of the field. That strategy worked out. The track here isn't easy and you really have to look after the tyres. We succeeded in doing so."
Rolf Ineichen (GRT Grasser Racing Team, Lamborghini Huracan GT3), 2nd place overall, 2nd place Pirelli Trophy classification: "With pole position, Christian put us into a good position for the race. Much more important, however, was the fact that the team repaired the car after the accident in such a way that it worked. A big thank you to everyone involved. The result is a well-deserved reward for the huge effort. The car was great. At the end, I had to save the tyres a little bit. But it was fun."
Christian Engelhart (GRT Grasser Racing Team, Lamborghini Huracan GT3), 2nd place overall, 2nd place Pirelli Trophy classification: "I am very happy. A super race for us. Today, the good qualifying was the basis. In the race, I had an extremely good stint with fresh tyres and together with Andrea Caldarelli, I was able to pull a nice gap from the rest of the field. I am very happy with what we have achieved. Days like today don't come really often."
Press release GRT Grasser – Wolfgang Koepp