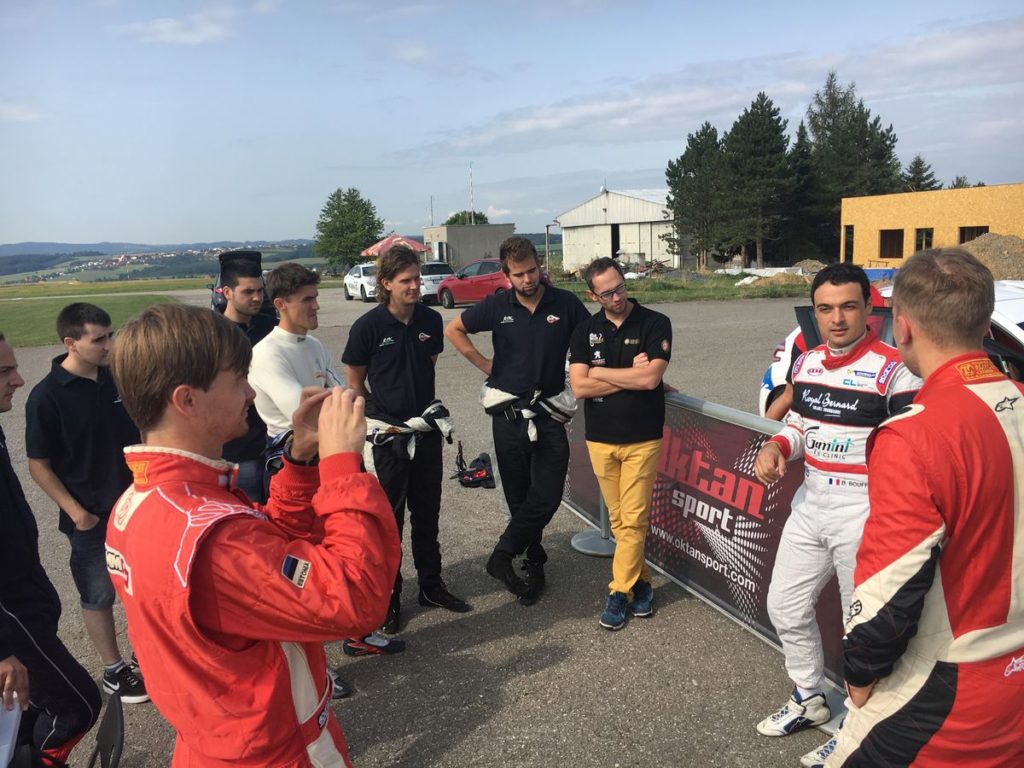 One of the most comprehensive young driver training programmes in motorsport will shift up another gear in 2018 with confirmation of the latest ERC Junior Experience curriculum. As previously announced, drivers registering for the FIA ERC Junior Under 27 Championship will now be automatically enrolled into the ERC Junior Experience training programme rather than applying separately and paying an additional fee, which was the case previously.
For 2018, there will be four ERC Junior Experience training events held in conjunction with rounds of the FIA ERC Junior Under 27 Championship. However, there will now be two optional packages for drivers to select in addition to the core package included in the ERC Junior U27 registration fee. The training packages available are as follows. Drivers not registered for ERC Junior U27 can also apply:
Yellow: Included in ERC Junior U27 registration fee and covering media relations, TV interviews and the production process, pacenote preparation, tyre management, first aid and championship organisation and administration.
Green (optional package): ERC Junior U27 drivers will receive training on social media dos and don'ts, car set-up and tyre changing. They will also take part in a test session on Tarmac with an expert coach providing driving tips.
Blue (optional package): ERC Junior U27 drivers will be enrolled into workshops covering sponsorship acquisition, physical training and vision training. They will also take part in a test session on gravel accompanied by an expert driving coach.
Useful information:
*Devised by championship promoter Eurosport Events, the ERC Junior Experience is managed by All In Motion's Evelien Deschuytter, an expert in equipping people with the skills they need to succeed.
*ERC Junior Experience participants not participating in the ERC Junior Under 27 Championship are permitted to undertake reconnaissance of the four rallies hosting training events, namely the Azores Airlines Rallye, Rally Islas Canarias, Barum Czech Rally Zlín and Rally Liepāja.
*ERC Junior Under 27 drivers can subscribe to the green and blue optional packages for 950 euros each (excluding VAT). Non-registered drivers will pay 1050 euros each (excluding VAT) or can enrol in all three packages for 2950 euros (excluding VAT).
*All workshops are run by industry experts with extensive rallying knowledge and understanding.
*ERC Junior Experience graduates include: Sébastien Bedoret, Dominik Brož, Filip Mareš, Catie Munnings, Javier Pardo Siota, Laurent Pellier, Roland Poom and Mārtiņš Sesks.
Jean-Baptiste Ley, the ERC Co-ordinator, said: "We are very pleased and excited to announce the ERC Junior Experience curriculum for 2018 and the packages available to young drivers looking to build their experience and expertise. Working with Evelien Deschuytter at All In Motion, we have devised a really comprehensive training programme that will not only represents excellent value for money but will help drivers to get better and better in and out of the car."

Catie Munnings joined the ERC Junior Experience as a virtual novice in 2016 and has found the training packages to be invaluable. She said: "The ERC Junior Experience was amazing in teaching me all of the tips and tricks that only come with years of experience. The teachers are industry experts and very influential people and will remain great contacts to have in the future. The ERC Junior Experience took me to many of the rallies, let us recce them and then develop our styles in all aspects of the sport beyond what we could do on our own, preparing us in the best way for the coming season, as well as having a great time and enjoying the rally atmosphere with some of the most talented young drivers in Europe. Evelien Deschuytter is a fabulous co-ordinator, working tirelessly to make everything happen and make sure everyone is getting the most out of the sessions. The lessons I have learned will stay with me for the rest of my career."
Click here for a copy of the ERC Junior Experience information pack.
Press release ERC