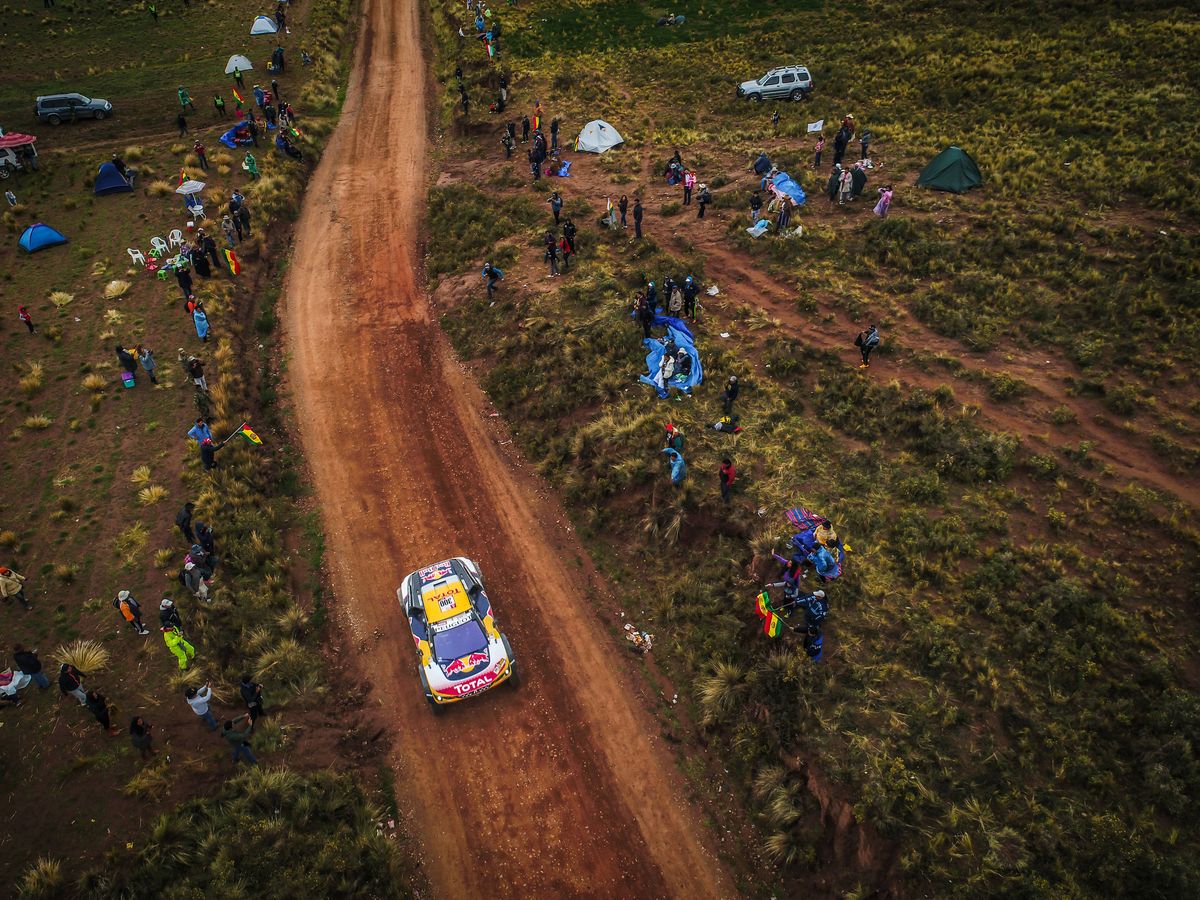 When you reach for glory at the Dakar Rally you have to stretch up high, 4,700 metres above sea level to be precise. As the race left Peru and transferred to Bolivia's Altiplano we witnessed the first day of extreme altitude. While some competitors took the chance to soar up the general rankings others dropped like stones as the harsh conditions got the better of them.
Standing up to the altitude in the bike race was Antoine Méo (FRA) who recorded his first stage win of this Dakar. Red Bull KTM Factory Team rider Méo is back for his second attempt at the Dakar after a distinguished Enduro career. Today's stage win has pushed the French rider up to 7th overall, just over 10 minutes behind new race leader Kevin Benavides (ARG).
"I thought to myself 'now is my time to make the difference' so I really pushed. I knew there was a risk that I could crash but this was one of those times when everything went well." – Antoine Méo
Also putting in strong rides on the path to La Paz were Méo's team-mates Toby Price (AUS) and Matthias Walkner (AUT). Former Dakar winner Price was third fastest on the stage to move to 6th overall while Walkner remains third overall and under three minutes behind Benavides.
"We know from previous years how much things can change in Bolivia and also we still have two marathon stages to ride. There are still some tricky days to come that's for sure." – Matthias Walkner
Fellow KTM rider Laia Sanz (ESP) is staying on course for her pre-race target with 18th place on the stage lifting her to 16th overall.
"I'm happy because I'm improving my position in the overall classification and this is what I need to do until the end." – Laia Sanz
While today's stage from Arequipa to La Paz was shortened for the bikes there were no such concessions made for the cars as they raced the entire 313km timed special. Carlos Sainz (ESP) won the stage with an exhibition of speed, but could not make too much of a dent in the overall lead of Peugeot team-mate Stéphane Peterhansel (FRA) which now stands at 27m10s over the Spaniard.
"There is still a lot of racing left, with stages that are 400 and 500 kilometres long, as well as the marathon stage." – Carlos Sainz
Race leader Stéphane Peterhansel (FRA) opened the stage and put in yet another extremely professional performance to clock his category's second quickest time.
"The main problem is altitude for the driver and for the engine. We lost a lot of power and we lost concentration – you know, the brain also works in slow motion, so it was a little bit complicated." – Stéphane Peterhansel
The Peugeot 3008DKR Maxi of Cyril Despres (FRA) claimed the car class's fifth fastest time. Meanwhile, Peterhansel was actually able to increase his advantage over chasing Toyota Gazoo Racing SA pair Nasser Al-Attiyah (QAT) and Giniel De Villiers (ZAF).
"It's always good to have variation: some dunes, some stages like this with really fast rally roads, really very enjoyable to drive, but the dunes are also a different challenge and that's also nice." – Giniel De Villiers
There was no podium place for Ignacio Casale (CHI) in the quad contest on stage six but he was still upbeat in the La Paz bivouac. Despite finishing 4th on the stage the 2014 Dakar quad champion was still able to increase his overall lead to 41m30s from his nearest rival Alexis Hernandez (PER).
In the truck race it was a good day for Team Kamaz Master as race leader Eduard Nikolaev (RUS) saw his team-mates Ayrat Mardeev (RUS), Dmitry Sotnikov (RUS) and Anton Shibalov (RUS) all join him in the Top 15 on stage six.
Tomorrow brings with it a much needed Rest Day for the competitors as their vehicles are handed over to the mechanics for a comprehensive tune up. Expect battle plans for the second week to be drawn up in La Paz by those still in with a shot at Dakar glory.
Top 3 Overall Results
Overall standings after Stage 6 – Cars
1. STEPHANE PETERHANSEL (FRA) PEUGEOT 16:25:02
2. CARLOS SAINZ (ESP) PEUGEOT +00:27:10
3. BERNHARD TEN BRINKE (NLD) TOYOTA +01:20:41
Overall standings after Stage 6 – Bikes
1. KEVIN BENAVIDES (ARG) HONDA 16:33:20
2. ADRIEN VAN BEVEREN (FRA) YAMAHA +00:01:57
3. MATTHIAS WALKNER (AUT) KTM +00:03:50
Overall standings after Stage 6 – Quads
1. IGNACIO CASALE (CHI) YAMAHA 19:47:09
2. ALEXIS HERNANDEZ (PER) YAMAHA +00:41:30
3. PABLO COPETTI (ARG) YAMAHA +00:57:16
Overall standings after Stage 6 – Trucks
1. EDUARD NIKOLAEV (RUS) KAMAZ 19:27:27
2. FEDERICO VILLAGRA (ARG) IVECO +00:52:40
3. SIARHEI VIAZOVICH (BLR) MAZ +02:29:42
Press release Red Bull