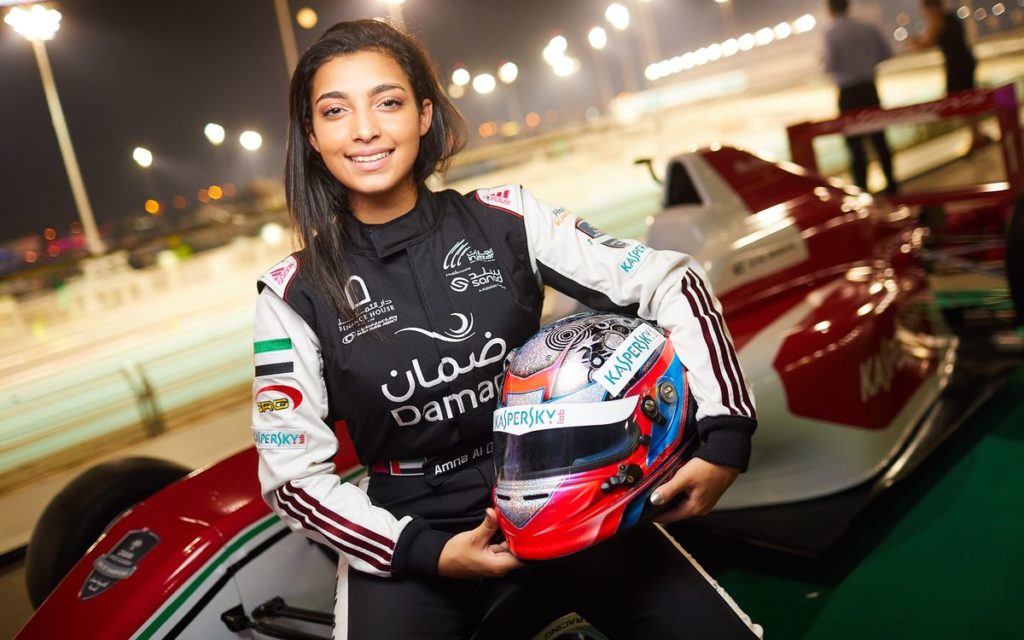 Daman Speed Academy (DSA) junior driver Amna Al Qubaisi has taken a huge leap in her Motorsport career with a move to Formula 4 with the best team in the business "Prema" sponsored by Kaspersky Lab.
Kaspersky Lab Managing Director for the Middle East, Turkey and Africa Maxim Frolov, made the announcement following a partners meeting in Abu Dhabi. Incidentally, Kaspersky Lab has been sponsoring the Scuderia Ferrari F1 team since 2011.
Maxim Frolov said: "It's great to see this success and professional growth in a sport that we support. In her achievements, Amna Al Qubaisi is a great example of human power combined with the best technologies. We believe it's changing the paradigm of Emirati sports and taking it to newer, higher levels."
Daman Speed Academy Founder and Abu Dhabi Racing MD Khaled Al Qubaisi said: "This is absolutely fantastic. It has been four years finding a driver to go up a level and Amna has done it.
"Racing with Prema and sponsorship from Kaspersky Lab is immeasurable and we hope this association will go a long way in getting Amna to compete ultimately at the highest level of this sport."
Amna has had a fantastic season, winning the Senior class of the UAE Rotax Max Challenge. Apart from that achievement, the 17-year-old Abu Dhabi schoolgirl also won the outstanding Emirati athlete award at the UAE Teen Sports and Fitness Awards and then came up trumps in the GCC Young Drivers Academy.
Amna Al Qubaisi said: "This is a tremendous opportunity stepping up to F4. I hope I can live up to the expectations of Daman Speed Academy, where I have trained. And of course Abu Dhabi Racing who have placed so much trust in me.
"Prema are a great team who have delivered champions. Moreover, Kaspersky Lab has come on board to sponsor the first ever Emirati female driver at this level of racing, which is fantastic. I now really look forward to this F4 racing season."
Dr. Michael Bitzer, Daman's Chief Executive Officer, said: "This achievement by Amna Al Qubaisi is undoubtedly deserved. Daman Speed Academy requires physical and mental fitness, and performance orientation, so for Amna to develop these skills under DSA is a true testament to her dedication, as well as the mission of the Academy: to empower and develop young Emirati drivers to be the champions and leaders of tomorrow. Daman is dedicated to empowering young people across the UAE through sports and sportsmanship coaching with initiatives such as Daman's Future Champions Programme."
Press release Kasperski Motorsport