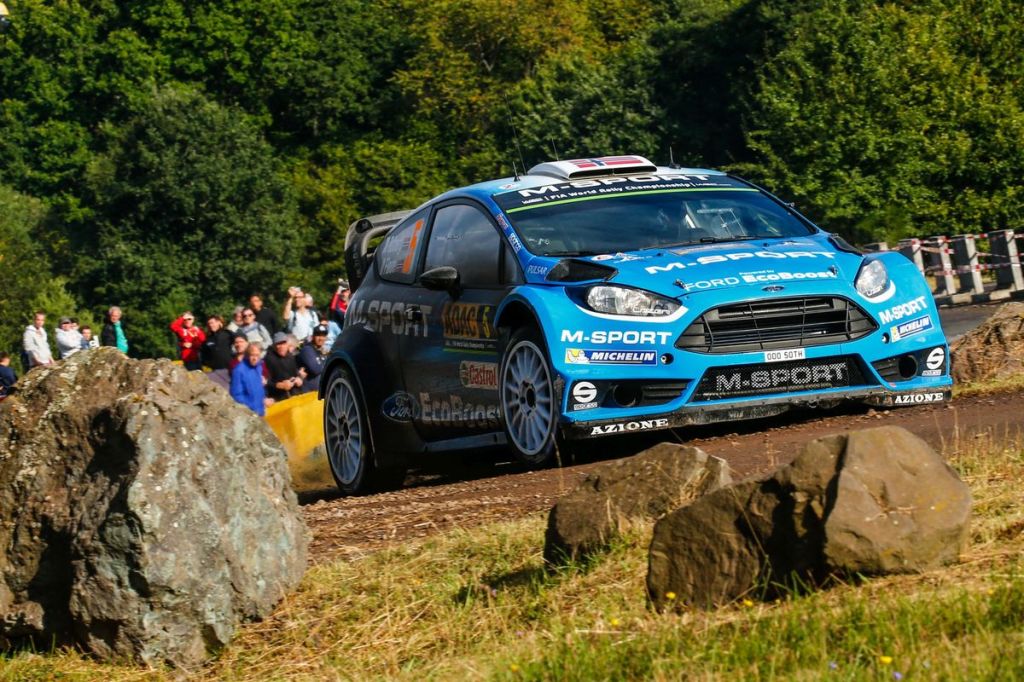 M-Sport World Rally Team's Mads Østberg kept his Ecoboost-powered Ford Fiesta RS WRC clear of trouble to bring home a solid sixth place at this weekend's ADAC Rallye Deutschland.
Equalling his second best result at this event – his best result of fourth coming behind the wheel of the Fiesta in 2012 – the Norwegian held his own on his least preferred surface. Despite the challenging terrain, he and co-driver Ola Fløene avoided the pitfalls that caught out a number of others and quickly established a comfortable position with big gaps ahead and behind. Using the remainder of the event wisely, the pairing experimented with various set-up configurations – building on the two days of pre-event testing they completed before this event to best prepare for the next asphalt outing.
In the sister M-Sport Fiesta RS WRC, Éric Camilii and co-driver Benjamin Veillas were recovering from a first-stage mistake which side-lined them over the opening day of competition. Returning under Rally 2 regulations, the Frenchmen swiftly set about regaining their confidence and quickly found a comfortable speed which saw them match their vastly more experienced team mates through a number of stages. Despite suffering a high rate of attrition over his rookie season, Camilli is as determined as ever and learning from each mistake. It's easy to forget how little experience he has and to underestimate the steep learning curve required to excel at this level, but Camilli is taking every challenge in his stride and already looking forward to the next event.
Having never claimed victory at Rallye Deutschland, the event is proving to be something of an Achilles' heel for M-Sport, but the team have been buoyed by success on home soil this weekend. Victory for Elfyn Evans and Craig Parry at the Ulster Rally was enough to see the Welshmen crowned 2016 MSA British Rally Champions, and their attention now turns back to the FIA World Rally Championship. Evans will return to the world stage later this year, where he has a chance of securing a second championship laurel in the WRC 2 category.
Mads Østberg (6th) said:
"It's been an enjoyable rally but it's clear that we have some work to do before Corsica. There are some areas that can be improved on the car set-up, but also some areas of our driving too. There were big gaps ahead and behind us so we've just been playing around with the set-up to try and improve our confidence in the car. The general set-up is working quite well, but it's the finer details that we need to work on – mainly the differentials – to bring everything together. We have tried a lot of things over the course of the weekend. Not all of them worked out, but I can promise you that we will all be working extremely hard over the next month to ensure we show an improvement in Corsica."
Éric Camilli (50th) said:
"It's not been an easy weekend but we have come away with a lot of experience. We didn't make a great start to this event, but that is life, and we had to pick ourselves up and work hard to rebuild the confidence. I think we did that, and we managed to improve our times quite a lot from one pass to the next. A big thanks to the team for all of the work they have done this weekend. It wasn't the result we wanted, but they put in 100 percent as always. Now, we're fully focused on Corsica where we will be determined to have a clean run and show another improvement."
Team Principal, Malcolm Wilson OBE, said:
"Rallye Deutschland has rarely been particularly kind to us. We've never won here, and it wasn't the best of weekends for us this year either. After his mistake on the opening stage, Éric has been playing catch up all weekend. It was a very difficult rally for him, but he did well to rebuild his confidence and regained some speed along the way. Mads had a clean run which delivered a solid sixth place on his least preferred surface. There's some work to do before he can feel completely comfortable on Tarmac, but we'll work on some solutions to try and help him over the next month. Away from the world stage, we had some fantastic news on home soil as victory at the Ulster Rally was enough to crown Elfyn [Evans] and Craig [Parry] 2016 MSA British Rally Champions. They'll be back in the World Rally Championship before the end of the season. We just need to assess the events and determine which will give them the best shot of securing another championship this year."
Press release M-Sport