For at least three decades the Group-S prototypes were hidden from the public. Now these rallye-exotics will experience a historic "second spring" in Saalfelden.
The year 1986 marked the last season the of the legendary Group-B era. Brutal power and insane acceleration have mesmerized the crowds and were the traits of this crazy time. Thus, this injudicious era should have been followed by the next escalation stage: The Group S.
No Group S prototype has actually raced in a rally before. For the Gr. B Rallyelegenden these exotics will leave their precious factory halls for the first time and will be presented to the global public. The Group S was a FIA-planned vehicle category which should replace the Group B rallycars in 1988. Major accidents of Group B cars in 1986 vanished the plans of a Group S emergence. Instead the street-based Group A cars conquered the rally world championship.
A requirement for a Group B homologation was that 200 units had to be produced and presented to the FIA, however for the Group S just 10 examples had to be built. This meant teams with a smaller budget were able to develope a serious championship-competitor. The maximum power output would have been limited to 300 Horsepower, but the finished test vehicles however were equipped with a monstrously powerful Group B engine.
The Gr. B Rallyelegends will feature an unprecedented premiere: At the exclusiv "autohaus"-showroom of the Hotel Gut Brandlhof in Saalfelden am Steinernen Meer the Group S prototypes will be on display – this has never been achieved before and is a world first!
So far the following vehicles have been confirmed:
Audi Sport quattro RS 002 : Loan of Audi Tradition in cooperation with Audi Austria
Opel Kadett E Rallye 4×4 : Loan of Opel Classic Rüsselsheim
Toyota MR2 222D : Loan of a private-collection
The organizer team is grateful for the Loans.
Additional surprises can be expected.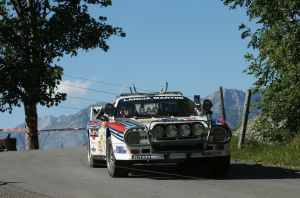 Following the success of this year – 35 000 rallyfans have visited the beautiful area around Saalfelden – visitors may enjoy the well-known highlights like the "Hexenkessel", the "night of thunder" again next year, along with some new stages. With the Rally Valpantena (in the Verona area), the biggest historic rallye-event in europe, the Gr. B Rallyelegenden has found a strong partner. There will also be a cooperation with the OSK, the highest Sport Commission for national motorsport.
Further information and news on the Gr. B Rallyelegenden 2016 will follow soon! www.gr-b-rallyelegenden.com
Press release Gr. B Rallyelegenden – picture Benno Reiss-Zimmermann