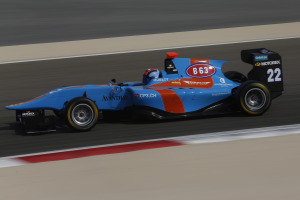 Race 1 : Marvin Kirchhöfer victorious as ART Grand Prix become Team Champions
 The German driver was hungry for success after a disappointing previous round: The ART Grand Prix ace started from P5 on the grid and made a stunning getaway to pass his title rivals into Turn 1. Kirchhöfer held on under severe pressure to celebrate his fourth win of the year. His success confirmed ART Grand Prix as 2015 GP3 Team Champions for the fifth time since the Series' inception. Arden International's Emil Bernstorff passed Series leader Esteban Ocon on the final lap for second position, with the Frenchman coming home in third. Trident's Luca Ghiotto was fourth.
The 24 drivers lined up on the grid in very hot conditions for the first ever GP3 race around the Bahrain International Circuit for Round 8 of the season. Pole-sitter was Mercedes backed Ocon with his main title contender Ghiotto joining him on the front row. Disaster struck for Campos Racing's Alex Palou who was due to start from P4: The unlucky Spaniard was unable to start the race as he suffered technical gremlins and retired in the pitlane.
When the lights went out, Ocon was quick to cover off the attack from Ghiotto but it was Kirchhöfer from the third row who flew past the pair of them to sneak into the lead heading into Turn One. Ghiotto was immediately onto the rear of Ocon, whilst the rest of the field were busy battling in a frenetic start to the race.Arden International's Kevin Ceccon was embroiled in a fight with Koiranen GP's Jimmy Eriksson for fifth place, whilst Trident's Artur Janosz and Carlin's Jann Mardenborough were locked into a titanic duel for P7. On lap 4, Kirchhöfer held a 1s lead, with 1.3s covering the top three.
Alfonso Celis. Jr who has recently been announced as Sahara Force India's F1 Development driver was busy carving his way through the field and he passed Mardenborough for eighth. Eriksson was also on the move as he got the better of Ceccon for fifth.
Celis Jr's next target was Ceccon and he got the job done to move into sixth on lap 14. Mardenborough close in pursuit tried to replicate the Mexican's manoeuvre but he ended up running wide.
With five laps remaining, Bernstorff who had been settled in fourth began his charge and his first victim was Ghiotto. He passed the Trident star going into Turn 1 on lap 17 and set after Ocon. With two laps remaining, the top three was covered by just one second in a mouth-watering fight.
Bernstorff was on a mission as he raced side by side with Ocon. The two briefly made light contact and the Arden star jumped into second after some bold moves on the final lap. At the chequered flag, Kirchhöfer was triumphant ahead of an overjoyed Bernstorff with ART Grand Prix teammate Ocon in third. Ghiotto posted the fastest lap of the race in fourth, ahead of Eriksson, Janosz, Mardenborough, Celis. Jr, Antonio Fuoco and Ralph Boschung.
Ocon now holds a three point lead over Ghiotto in the Drivers' Standings, whilst Kirchhöfer has moved back into third place, five points clear of Bernstorff. ART Grand Prix wrapped up their fifth team's title out of six attempts, with Trident and Arden International in second and third with all to play for.
Race 2 will commence at 09.00 am local time tomorrow (GMT+3) with Celis. Jr starting from reverse pole.
Sakhir – Race 1
| | | |
| --- | --- | --- |
| | Driver | Team |
| 1. | Marvin Kirchhöfer | ART Grand Prix |
| 2. | Emil Bernstorff | Arden International |
| 3. | Esteban Ocon | ART Grand Prix |
| 4. | Luca Ghiotto | Trident |
| 5. | Jimmy Eriksson | Koiranen GP |
| 6. | Artur Janosz | Trident |
| 7. | Jann Mardenborough | Carlin |
| 8. | Alfonso Celis. Jr | ART Grand Prix |
| 9. | Antonio Fuoco | Carlin |
| 10. | Ralph Boschung | Jenzer Motorsport |
| 11. | Matthew Parry | Koiranen GP |
| 12. | Matheo Tuscher | Jenzer Motorsport |
| 13. | Sandy Stuvik | Status Grand Prix |
| 14. | Kevin Ceccon | Arden International |
| 15. | Mitchell Gilbert | Carlin |
| 16. | Seb Morris | Status Grand Prix |
| 17. | Zaid Ashkanani | Campos Racing |
| 18. | Konstantin Tereshchenko | Campos Racing |
| 19. | Alex Fontana | Status Grand Prix |
| 20. | Michele Beretta | Trident |
Fastest Lap : Luca Ghiotto (Trident) : 1 :49.958 on lap 6
Not Classified
| | |
| --- | --- |
| Pal Varhaug | Jenzer Motorsport |
| Matevos Isaakyan | Koiranen GP |
| Aleksander Bosak | Arden International |
| Alex Palou | Campos Racing |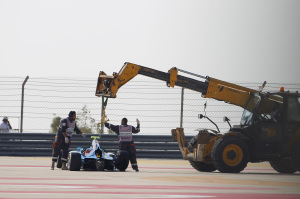 Race 2 : Trident's Luca Ghiotto leads title battle by two points after superb victory
 After briefly losing the lead to his nemeses Esteban Ocon in a fiercely contested title battle, Luca Ghiotto fought back to take a commanding victory in Sakhir from fourth on the grid. The Italian held a comfortable 2s margin over the Frenchman from ART Grand Prix to return to the head of the Drivers' Standings meaning the championship will be decided at the final round in Abu Dhabi next weekend. Koiranen GP's Matthew Parry was third.
ART Grand Prix and new Sahara Force India F1 Development driver Alfonso Celis. Jr started from reverse pole. The Mexican made a good start to retain the lead into Turn One. Ghiotto was clearly fired up: the Italian started from P4 and passed Celis. Jr into Turn 2 to take the lead. Carlin's Jann Mardenborough who started from the front row was not so lucky; a slow start meant he fell into the pack and he received contact which sent the Brit running wide and into an early retirement.
In the meantime, yesterday's race winner Marvin Kirchhöfer also made a brilliant start from P8 to P3 on the opening lap. His teammate Esteban Ocon found a way past Trident' Artur Janosz with the ART GP cars running in second to fourth. The safety car was deployed for an incident between Status Grand Prix's Sandy Stuvik and Jenzer Motorsport's Matheo Tuscher at Turn 14. This soon turned into a red flag due to the marshals having to remove Stuvik's car which was buried into the barrier. The cars returned to the pitlane to wait for the race to continue.
The safety car led the field round at the re-start and once the action resumed Ocon wasted no time in passing his teammate Kirchhöfer at Turn 1. Celis. Jr was his next victim as the Mercedes junior set after his title rival Ghiotto. The Italian was busy lighting up the timing screen to post fastest laps with a 1.9s lead over the Frenchman on lap six.
Koiranen GP's Mathew Parry who started P11 on the grid was also busy carving his way through the field and was up to fourth on lap 8 after overtaking Arden International's Emil Bernstorff. There was a great duel between Jimmy Eriksson and Artur Janosz for the final point on offer with the Swede successfully passing the Pole. The Trident rookie then began to fall back through the field after an excellent start to the race.
Parry who had looked racy from the get-go found himself in a podium spot after overtaking Celis. Jr on lap 10. Ghiotto continued to control the race with a 2s lead over Ocon and the Italian maintained this advantage to the chequered flag to win by 2.3s. Ghiotto, Ocon and Parry completed the podium, with Bernstorff, Antonio Fuoco, Kirchhöfer, Eriksson and Celis. Jr rounding out the top eight.
You don't have long to wait for the final round of the Series as Round 9 takes place at the Yas Marina Circuit in Abu next week on 27-29 November. The Teams' Championship has been won this weekend by ART Grand Prix but the driver's elusive GP3 crown is still up for grabs. Don't miss it!
Sakhir – Race 2
| | | |
| --- | --- | --- |
| | Driver | Team |
| 1. | Luca Ghiotto | Trident |
| 2. | Esteban Ocon | ART Grand Prix |
| 3. | Matthew Parry | Koiranen GP |
| 4. | Emil Bernstorff | Arden International |
| 5. | Antonio Fuoco | Carlin |
| 6. | Marvin Kirchhöfer | ART Grand Prix |
| 7. | Jimmy Eriksson | Koiranen GP |
| 8. | Alfonso Celis. Jr | ART Grand Prix |
| 9. | Ralph Boschung | Jenzer Motorsport |
| 10. | Alex Palou | Campos Racing |
| 11. | Mitchell Gilbert | Carlin |
| 12. | Artur Janosz | Trident |
| 13. | Zaid Ashkanani | Campos Racing |
| 14. | Matevos Isaakyan | Campos Racing |
| 15. | Michele Beretta | Trident |
| 16. | Aleksander Bosak | Arden International |
| 17. | Konstantin Tereshchenko | Campos Racing |
| 18. | Kevin Ceccon | Arden Motorsport |
| 19. | Alex Fontana | Status Grand Prix |
Fastest Lap : Luca Ghiotto (Trident) : 1 :48.228 on lap 6
Not Classified
| | |
| --- | --- |
| Seb Morris | Status Grand Prix |
| Jann Mardenborough | Carlin |
| Sandy Stuvik | Status Grand Prix |
| Pal Varhaug | Jenzer Motorsport |
| Matheo Tuscher | Jenzer Motorsport |
Press release GP3