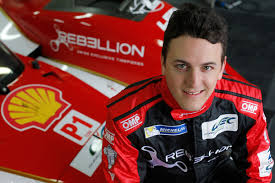 The Manor Marussia F1 Team announce that it has signed Fabio Leimer as an Official Reserve Driver for the remainder of the 2015 season.
26 year old Fabio, from Rothrist in Switzerland, is the 2013 GP2 Series champion and winner of the 2011 GP2 Final. He is also a former Formula Master series champion, prior to which he competed in Formula Renault 2.0 and Formula BMW ADAC.
Fabio will join the team at selected races, working closely with the drivers and engineers to aid the team's development programme and on standby to deputise for a race driver in the event that they are unable to take part in race weekend activities.
To prepare him for the role, the team will be providing Fabio with the opportunity to drive the MR03B in selected Free Practice 1 sessions of the FIA Formula One World Championship.
Fabio Leimer : "I'm thrilled to be provided with this opportunity and I'd like to thank the Manor Marussia F1 Team for the faith they have shown in my ability. In particular I'm very excited to have the chance to drive the car in selected FP1s, but I am also looking forward to spending a lot of time trackside with the team, contributing my observations and experience in engineering situations and also learning about the team and a Formula 1 operation. It's a huge step for me and I can't wait to get started and hopefully reward the team's confidence in me."
John Booth, team manager Manor Marussia F1 Team : "We're delighted to welcome Fabio to our team. We always keep a close eye on drivers competing in the feeder series and their potential for making the step up to Formula 1. Fabio has been on that radar for a number of years, so we're pleased to give him the opportunity to progress as he is a very talented driver and certainly deserving of this opportunity. Fabio will be joining us at selected races for the rest of the season, contributing to engineering meetings and on hand to substitute for either race driver should they be unable to compete at any stage. Familiarity with the car is therefore important, so we plan to run Fabio in a number of opening free practice sessions this season, allowing us to further evaluate his potential."
Crédit Photo @Jean-Baptiste Lassaux