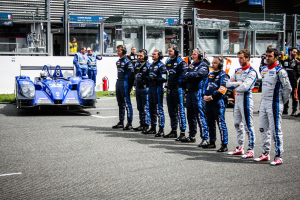 Team SARD Morand made an impressive endurance debut with the first row on the grid, a race lead and the third place in the LMP2 class after a trouble-free race.
TEAM SARD MORAND, drivers Pierre Ragues, Oliver Webb and Zoel Amberg and their #43 Morgan EVO SARD could not have dreamed of a better first in the WEC. In qualifying, the Swiss team immediately proved competitive, clinching the third position in the LMP2 class that turned into first row after another competitor suffered penalty.
Oliver Webb started the race. After taking the lead on lap 1, the British driver drove a consistent double stint, maintaining the #43 car in the top 5 of the LMP2 class. He was 4th when he handed over to Pierre Ragues after 90 minutes of racing. The Frenchman performed flawlessly for another double stint with the #43 Morgan EVO SARD, keeping P4 when Zoel Amberg took the wheel. The Swiss proved as consistent as his team mates and when Oliver Webb took the wheel again to complete the final stints. He moved to P3 when the car holding that position retired, and received the chequered flag celebrating a great podium finish after a perfect race.
Oliver Webb and Zoël Amberg (Pierre Ragues missing on the photo)

Zoël Amberg : « For my first experience in endurance racing this double stint was pretty good, especially the first one. It is great we could finish on the podium. I could improve lap by lap on the race track. I could fight against other cars. It became difficult with the tyres and I am sure we could have done even better. Now I am looking forward to the 24 Hours of Le Mans, and we have to make other steps forward to finish second and even win. »
Jean-François Ruchonnet

Jean-François Ruchonnet, Team Principal : « We can say that it is a real adventure, a resurrection. Acting as sponsor and Team Principal, I think that the result is up to the expectations. Some things can be improved, we are working on it. Benoit and I have a precise vision of what can be improved. The car is performing good and I think this can bring us a good result at Le Mans. The driving line-up is great, Pierre was ill when he was at the wheel and could not join the podium celebration. This is a young and coherent team. This is a real first, this is nice. For me, Le Mans is a personal dream. My friend Benoit can be proud of the team he put together, I am here to support him, and put up a long-term plan. We will try to enter two cars at the Nurburgring. This kind of result is perfect to help us find new partners. »
Benoît Morand and Zoël Amberg

Benoît Morand, Team Manager : « This weekend is more than satisfactoy. Oliver had a great race start, we had a good first stint. Unfortunately we lost some time in pit stops, which is very unusual for us. The drivers did great and we could keep the pace. Congratulations to Zoel who was very fast for his first race in an LMP2, and also to Pierre who got sick at the end of his stint. He had to be transferred for medical care, but nothing serious and he will be recovering within the next few hours. I also would like to thank our partners: Franck Muller Onroak Automotive, X-Track, Dunlop, Judd and Sparco. The next stage will be the 24 Hours of Le Mans, and we will have to work to get ready. We will be competing there as outsiders, we can achieve something great, I think we can make a good result there. »
For TEAM SARD MORAND, currently fifth in the LMP2 teams' standings, the big event of the 24 Hours of Le Mans will take place on June 13-14.
Crédit des photos et citations ©Team SARD Morand et ©Laurent Missbauer