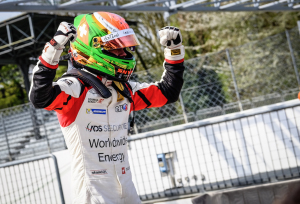 After his faux pas yesterday the Swiss Louis Delétraz (Josef Kaufmann Racing) won Sunday's race convincingly at the opening weekend of the Formula Renault 2.0 Northern European Cup at Monza.
Ukyo Sasahara, Saturday's winner (ART Junior Team), finished second ahead of Frenchman Valentin Hasse-clot, who took the second podium place of the weekend for the Strakka Racing Team.
At the start today Delétraz was a little nervous and lost the sprint to the first chicane to Sasahara. There Nikita Mazepin, Dries Vanthoor (both Josef Kaufmann Racing), Ferdinand Habsburg (Fortec Motorsports), Darius Oskoui (ART Junior Team) and Rahul Raj Mayer (Mark Burdett Motorsport) all collided into each other and for all them the race ended there.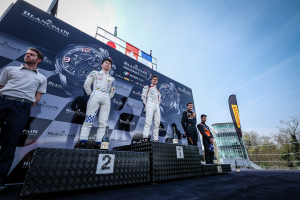 By the end of the first lap, Louis Delétraz took the lead back and held Sasahara at a distance all the way to the finish line. The fight for third position was harder. Valentin Hasse-Clot (Strakka Racing) came through the pile up at the first chicane and went from seventh to third place. For several laps Kevin Jörg (Josef Kaufmann Racing), Callan O'Keeffe (Fortec Motorsports) and Dennis Olsen (Manor MP Motorsport) were chasing the top three.
Just before the end Jörg and O'Keeffe touched. O'Keeffe dropped back to finish 21st while Jörg finished ninth. Valentin Hasse-Clot could go directly to the podium in his first weekend in the Formula Renault 2.0 Northern European Cup
Louis Delétraz (#14 Josef Kaufmann Racing) : "After yesterday a victory today is perfect. At the start I was a little bit nervous after what happened yesterday. But I could pull a gap very quickly which made it a bit easier for me. On the whole I had a good weekend. Looking forward to the rest of the seal."
Next race weekend will be from 22 till 24 May, at Silverstone (UK). There, too, both races will be broadcast live.
Crédit des photos @Formule Renault 2.0 NEC